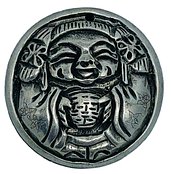 This is a perfect opportunity to start your own jewelry or bead business or add to your existing stock.
We purchased this business as we wanted the equipment and are not in the jewelry business.
We have approximately 125 rubber molds and each mold contains anywhere from 10 - 35 different cavities or designs. I would hazard a guess that we have over 2,000 different designs in the molds all related to a bead or jewelry store. You can see many designs that we have by clicking here. We no longer have any inventory of product, we just have the rubber molds.
The 125 complete molds are worth approximately $4,375 - make me an offer that I like and you can have them along with the website and domain name. (silly offers will be considered) - The BLANK molds cost us over $50 each - They take over 4 hours each to make plus the time to make the originals that are created in them.
We can teach you how to do the molding and share supplier information but only if you buy the molds
* this is an asset sale, our corporation is not included, cash, etransfer, bank draft or certified cheque only.
** the business is located in Qualicum Beach on Vancouver Island, it can all be shipped (at your expense) once we have been paid in full.
Interested parties please email us at islandpewter@gmail.com